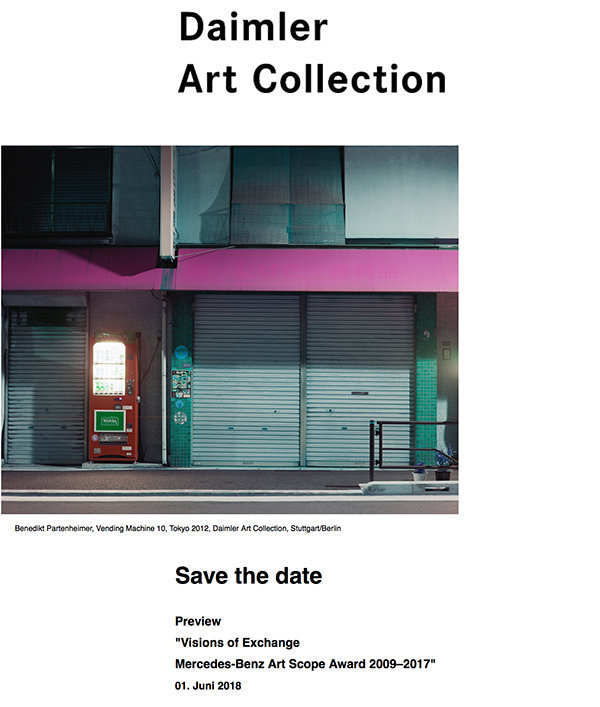 http://art.daimler.com/mercedes-benz-art-scope-2009-2017/
Interview with Berlin Art Link:
http://www.berlinartlink.com/2017/07/25/climate-change-seen-as-if-through-smoke-an-interview-with-benedikt-partenheimer/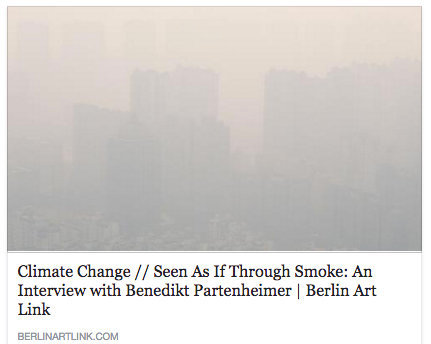 Interview with SixthTone: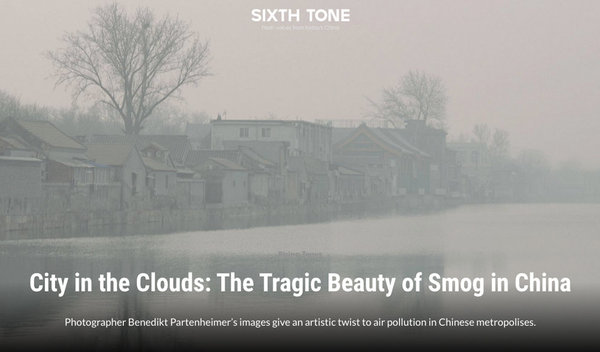 http://www.sixthtone.com/news/city-clouds-tragic-beauty-smog-china
BERLIN

ART PRIZE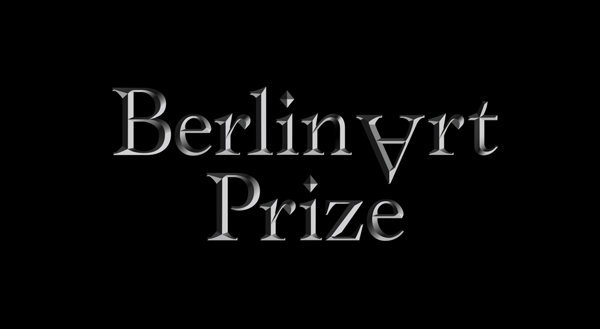 Winner of the Berlin Art Prize
Award ceremony at Kühlhaus Berlin 10. Dec. 21:00
http://berlinartprize.com/en/berlin-art-prize/berlin-art-prize-2016/#prize
http://bpigs.com/diaries/interviews/meet-the-berlin-art-prize-2016-winners
C40

MAYORS SUMMIT

, MEXICO

CITY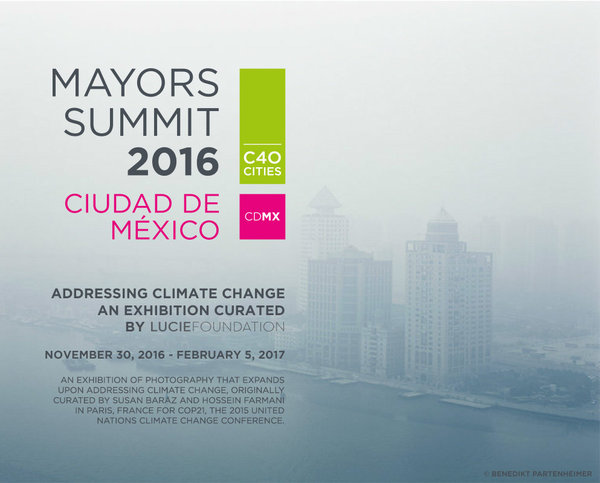 The exhibition will be displayed in the open galleries at Chapultepec Forest, one of the most emblematic sites of the city. The outdoor exhibition will feature large-scale photographs which will be installed on free standing modules in the main entrance to the park and on the Chapultepec Fences along Reforma Avenue.
WOLKEN /

CLOUDS
Exhibition with works from:
Carl Irmer, Janina Lange, Lee Kit, Friedrich Loos, Yoshimi Hashimoto, Elise Mahler, Maki Na Kamura, Nanne Meyer, Benedikt Partenheimer, Osmar Schindler, C. F. Søerensen, Wolfgang Tillmans, Carl Thomsen, Luca Trevisani…
http://www.die-kunsthandlung.de
http://kunst-wochenende.eu/2016/03/03/arnoldie-livie/
http://www.arnoldi-livie.de/exhibitions.php
SPECIAL

EDITION
(SOLD
OUT
)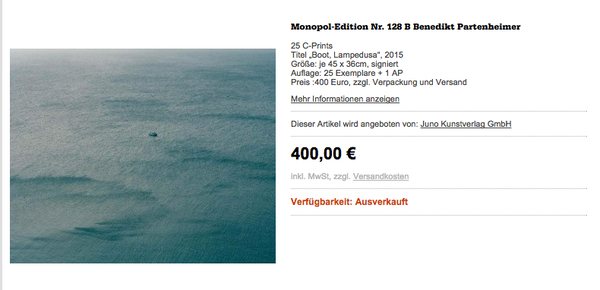 The image "Boat, Lampedusa" from the series "Dreams of Europe" is sold as a special edition (25 + 1AP) for Euro 400 together with Monopol Magazin. The money will be donated to the organization Sea-Watch who assists in refugee rescue missions in the Mediterranean Sea.
http://shop.monopol-magazin.de/editionen
MACRO, Museum of Contemporary Art of Rome

FOTOGRAFIA
International Festival of Rome, 14th edition:
THE PRESENT
Showing a selection of my series "Dreams of Europe" from:
9 October 2015 – 17 January 2016
http://www.fotografiafestival.it/fotografia-2015/?lang=en
VENICE

BIENNALE
Showing work from my series "Particulate Matter" at the SWa Pavilion, Tesa 100, Arsenale Nord in Venice.
http://www.swatch.com/en/explore/swatch-art/la-biennale-di-venezia/info
MONOPOL

MAGAZIN
Interview about my new work "Dreams of Europe" in Monopol Magazin
http://www.monopol-magazin.de/benedikt-partenheimer
SYNGENTA

PHOTOGRAPHY AWARD

1st Prize
in open competition at the Syngenta Photography Award.
Showing photographs from my series "Particulate Matter" and the video work "It`s Never Enough" at the Somerset House in London until April 10th.
http://www.somersethouse.org.uk/visual-arts/syngenta-photography-award-2015
Particulate Matter
featured in the Washington Post:
http://www.washingtonpost.com/news/in-sight/wp/2015/03/02/china-is-disappearing/
PHOTOGRAPHY:

INTERNATIONAL
Showing images from my series "Vending Machines" at theDaimler Art Collection in Stuttgart, Germany
http://art.daimler.com/en/fotografie-international-video-mixed-media-2/